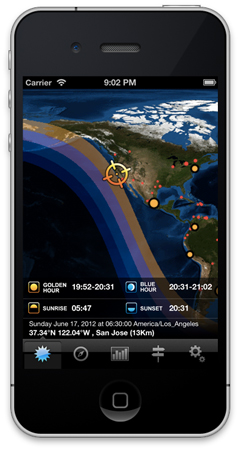 The first tab shows a "Sun Clock" comprising a map of the earth with the division between night and day (called the "terminator")  superimposed on top.
In fact we take the idea of a basic terminator and enhance it by showing you the area of earth experiencing the Golden Hour, Twilight and more by colour coding the relevant regions.
This screen can also show you alerts for the next event where you are, just tap the lower portion of the screen where you can see short form data for the current day.
Double tap the center of the screen, or swipe up from the lower portion for the full menu.
Note that on the map, you can zoom and pan around using standard pinch and swipe gestures and you can also set a new location by simply tapping once.
This screen now features the ability to plot the towns and cities that are built into the app (remember you can use the Golden Hour without an internet connection) – you can control how many locations are plotted using the settings tab.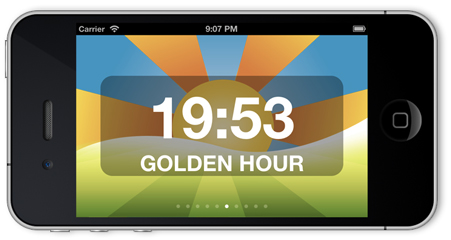 Also new for version 3 is that if you rotate the phone to landscape, you now get quick access to all the key data for the day in an easy to view scrolling screen.