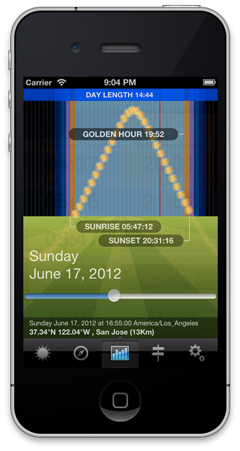 The award winning Golden Hour website is now available as a Universal app on iPhone and iPad so you can take the sun with you wherever you go.
This high quality application gives you comprehensive data on the sun for any day of the year and helps photographers around the world plan their shoots for the best possible light.
Explore the menu options above to learn more about this great app.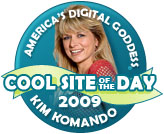 The website version of this app was picked as a cool site of the day by Kim Komando in 2009, thanks Kim!
Recent Reviews for Golden Hour
See the originals in the app store here
4th November 2010 – Robertogee in USA says "Great Little App"Perfect for what it does. Bookmark coordinates for your favorite locales or for travel destinations. Tap to quickly determine Golden Hour for where you are, and plan ahead. Excellent graphics, easy to use.

12th October 2010 – Natasha in Germany says "Great App!!!"I am a photographer that travels a lot, always looking for great light, and this works great to me…

10th October 2010 – Purple74  in Italy says "Eccellente"Davvero eccellente! Se lo slider per la selezione dei giorni fosse un po' più preciso (è vero che comunque puoi passare al giorno precedente/successivo semplicemente toccando il lato sinistro/destro) sarebbe perfetta. Comunque già così è indispensabile.

Ciao Purple74, Grazie Mille! il mio italiano non e molto buono, ma … Note that on the golden hour tab, you can move to the previous and next days simply by tapping the screen below the horizon to the left or right
3rd September 2010 – dcndfw in the USA says "Nice …"Refreshingly straightforward app — communicates sun position info intuitively — give it a look and a tap or two and you know when to get out into the light. Don't forget your tripod.

13th August 2010 – MadCrash in the USA says "Planning made easy"This tool really helps me plan my shoots, especially when I'm shooting in an unfamiliar location. I find I get more quality shots per outing after using this app.

12th June 2010 – Rob Bixby Photography in the USA says;A great app for any serious photographer. By being able to select any date and location, it's possible to work out the logistics of a shoot well ahead of the event.