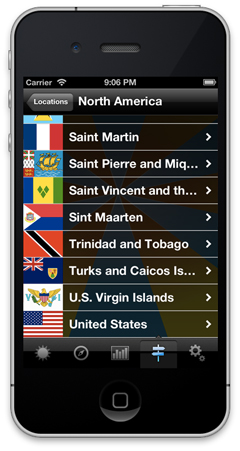 The locations tab allows you to set your location to any one of millions of locations worldwide. Our built in database has over 50,000 cities, towns and villages from every country on earth and amazingly, all this data is ready to use without requiring an internet connection – so for all you iPod touch users out there, the Golden Hour app is still very much one you can use when out and about.
For even more locations, you can now search the online geonames.org database for locations within any selected country.
Still not enough, how about dropping a pin from a google map to the exact point you want? Or maybe you already know the exact latitude and longitude of your shoot?
Well with the latest version of Golden Hour, you can now add in ANY location you like and better still, there is a comprehensive bookmarks feature so you can save any of your favourite locations to use again next time.