We're in the process of updating the site so please note that some of the images and descriptions will refer to the new version that launches in a few days time. The update is as always free to existing customers.
One particular feature that a lot of you may like is the improved date selection – when you use the slider for changing the date, there is now a date picker to help you refine the day you want.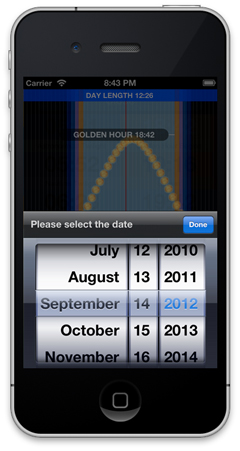 As before, you still have the option of not using the date picker and using the day nudge feature that many of you seem not to have discovered yet 😉 Turn the date picker off in settings and then when you use the slider to set a rough date, simply tap below the horizon to the left to nudge the date down by a day or to the right to nudge the date up.